De Meerbrug - Catholic Primary School
Zwanenburg - The Netherlands
Pollard Willow Tree
Artwork, poem and purpose
POEM, made by Maaike (grade 6 / groep 8):

De knotwilg

Er staat een (knot)wilg langs het kanaal

Zo alléén en zo kaal!

En Hij sprak:Mijn takken zijn nu manden gemaakt door de mens

Ik zou ze heel graag terug willen, dat is mijn grote wens

Je kan het vergelijken met een mens zonder haar

Als die het dan terug zou willen dan was dat toch ook niet raar!!!
| | |
| --- | --- |
| | English Translation poem, made by Maaike:A Pollard-Willow stands near the canalSo lonely and so bareHe said: men made baskets from my branchesBut I wish I can get them backYou can compare me with a human beingIf you want your hair back, you also don't find this strange |
| Drawing made by Charon (grade 6 / groep 8) | |

On March 6 the students made "Elfjes".
Click on the Fairy above to read their poetry.
Poem: De Wilgen (made by C.S. Adama v. Scheltema, brought in by Frank -grade 6 / groep 8)
Daar waren eens zeven wilgen In ene boerenwei Die droegen grote pruiken op Hun oude harde houten kop En stonden op een rij En hunne pruik met haren Die kwam nooit to bedaren Zij knikten al maar "Ja en Neen" Wat dat beduidde wist er geen

English Translation (short) Seven willows were standing in a meadow With large wigs on their wooden heads
Toen kwamen er heel veel vogeltjes Die bouwden daar hun nest Die woonden allen paar aan paar En leefden leutig met elkaar En vonden 't opperbest En ieder zong een liedje Van wiede-wiede-wietje Maar al de wilgen riepen: "Och, Wat schreeuwen daar die vogels toch"

Then their came many birds. They build their nests And had fun with singing But the Willows didn't like the yelling of the birds.
Toen kwam de wilde wervelwind Die ziet ze daat zo staan En draait zich driemaal om en zeit: "Wat's dat nou voor parmantigheid!" En waait zo op ze aan. Eerst deden ze nog deftig Maar't werd hun gauw te heftig Toen riepen ze allen door mekaar:


"O jeminee, wat is dat raar!"

The whirlwind came And saw the the willows The wind said: They're too jaunty So the wind blew very hard The Willows tried to be fashionable, but it became too much for them
Toen kwam een grote regenbui Die keek heel boos en zei: "die pruiken vind ik veel te hoog Dat's geen fatsoen, die zijn te droog Daar moet wat water bij!" De wilgen knikten en steenden: "Wat is dat nat!" - Ze weenden! "Oh!," roepen ze met 'n lang gezicht "Nee, dat vergeten wij niet licht."

The rain-shower came and was very angry. He said: The wigs are too high and also much too dry The willows said: too wet and they wept: We won't forget
Toen kwam een dikke bonte koe Die snoof zo 's en zei: "Wel Zo'n wilgenblaadje mag ik graag, Dat's juis goed voor een volle maag En voor een zwak gestel! 'k Mag zeker van uw pruiken Wel een kleinigheid gebruiken?" De wilgen zuchtten elkander toe: "Wat zeg je nou van zo een koe"

A cow came and said A Willow-leaf, that's healthy Good for a full stomach and for a weak system She asked: may I have a bite of your wigs? The Willows sighed "What a cow!"
Toen werd op't laatst hun pruikebol Zo allerakeligst lang Dat iedereen van schrik wegliep De vogels riepen: "piep, piep, piep" En werden ook wat bang En ieder zei:"Wat vreselijk! Dat's zeker ongeneeslijk?" De wilgen dachten:"Dat's juist fijn 't Bewijst, dat wij van adel zijn!"

Their wigs became much too high It frightens everybody The birds said: What awful Is it incurable? The willows said: What does it matter, It's shows that we are nobility
Toen kwam de boerenkapper aan Die had een lange schaar En knipte met een grote hap Zo maar op eenmaal: knip knip, knip Door al dat wilgenhaar! Zij schrokken zelf verbazend Maar de and'ren lachten razend En riepen allemaal brutaal: "Wat benne jullie nou weer kaal!"

Then the farmer-caper came With long scissors And he trimmed the willows hair The willows were frightened But all the others laughed And they yelled: What are the willows bare!
Purpose
(Photos collected by Jody, grade 6)

Shepherd, made of Willow twigs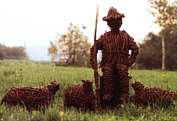 Art, made of Willow twigs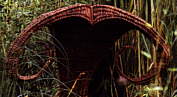 Riverside, typical Dutch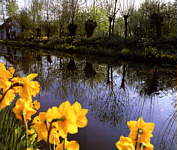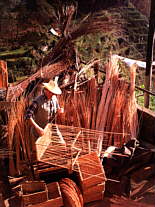 Handworker, making baskets
---
Visitors since 08-02-1997:78 +
Last modified (dd-mm-yyyy):22-11-1997
Back to our homepage
Back to Elanora List of Trees
Copyright: René de Vries
Email De Meerbrug