De Meerbrug -

One of the students, Erik, of grade 5-6 was during the summervacation in Twente, a small part of the Netherlands. During their vacation they visited a farm at Brecklenkamp, nearby the German-Dutch border. There they saw a more then 300 years old Oak Tree. As you can see, it is growing through the roof. This building was made in 1738 (more then 250 years ago). This photo was the first input from our pupils for the Trees and Forest Project.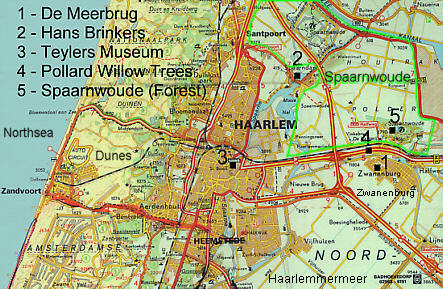 At the top of the Haarlemmermeer you find Zwanenburg. In the past the Haarlemmermeer was a lake. In the middle of Haarlemmermeer is Schiphol, the main airport of Holland. Schiphol is situated 6 metres beneath sealevel! Zwanenburg is 5 metres beneath sealevel.
1 - De Meerbrug - our school
If you want to know more about the history of the Haarlemmermeer, please visit the Haarlemmermeer-page. Our pupils know much about it. You also can read their opinion about the expansion of our main airport Schiphol.
2 - Who knows the story of the little boy who put his finger in the dike, and saved Holland? A statue of him is placed in Spaarndam, a part of Haarlem
3 - The oldest museum of Holland: Teylers Museum
4 - The dike where many Pollard Willows are growing
5 - A part of Spaarnwoude, an artificial forest between Amsterdam and Haarlem / IJmuiden.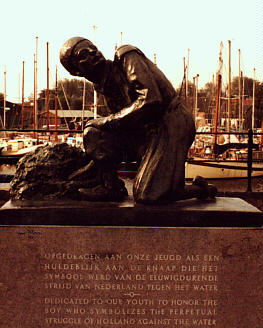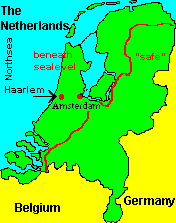 Statue of Hans Brinkers:
Dedicaded to our youth to honour the boy who symbolizes the perpetual struggle of Holland against the water. Read the story.
---
If you want sent us a mail: zwanen@dds.nl
Copyright: René de Vries
Back to our HomePage
Back to Elanora Heights Primary School
Visitors since January 22, 1997: 134 +
Updated November 22, 1997